While Singapore is one of most crypto-friendly nations in the world, very few companies have been able obtain licenses. Recently, the government stated that up to 80% of applications were rejected. What explanations did the government give?
The "payment services act singapore cryptocurrency" is a law that was passed by the Singaporean government. The law stipulates that all companies involved in cryptocurrency transactions must have a license from the government. Many companies have had to struggle with this law because they cannot get a license.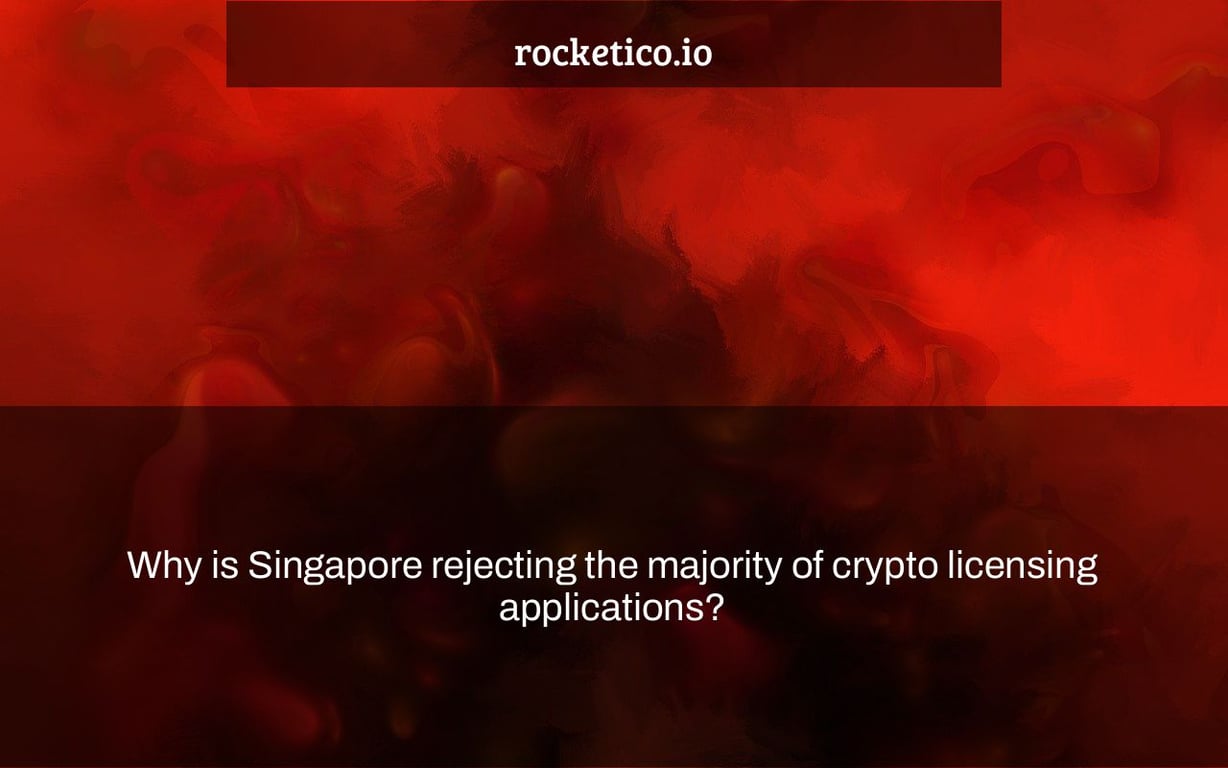 VulcanPost reports that 103 out of the 176 digital payment token license applications (DPT), submitted to the Singapore Monetary Authority, (MAS), were denied or withdrawn.
According to the tech media portal, only four licenses were issued from the remaining 73 applicants. DBS Vickers and Independent Reserve, FOMO Payment, TripleA, and TripleA have all been granted a DPT license.
Do you think this means Singapore shouldn't continue to be considered crypto-friendly given the fact that less than 3% DPT applications have been granted?
Isn't Singapore known for being a crypto pioneer?
With an 8.4/10 score, Singapore is ranked #1 on the Coincub Global Crypto Rankings. Australia ranks second with an 8.3/10 score, while the United States ranks third with an 8.2/10 score. The drop in ranking is due to regulatory uncertainty.
According to the survey Singapore is a great place to live and work as a crypto investor. This is owing to the country's robust economy, friendly regulatory climate, and high crypto adoption rates.
"Thanks to a flourishing crypto industry, favorable regulations, and the world's second-highest number of crypto-owners, Singapore has risen to the top." That's not to mention the government's clear plan and strict rules, which have reassured crypto-skeptical investors."
While many other jurisdictions continue to delay crypto legislation, Sopnendu Mohanty, the Singapore Central Bank's Chief Fintech Officer, expressed his willingness by saying that "crypto should be seen as an experimental construct."
Why is the MAS's DPT license so strict in light of all of this?
Method that places quality ahead of quantity
Vulcan Post offers a different perspective. While it may seem like Singapore has become anti-cryptocurrency, Vulcan Post disagrees. They conclude that the central bank is actively defending Singapore's worldwide image as a safe location to conduct business by enforcing tight DPT licensing rules.
There's also the problem of approaching the crypto industry with caution, since it's typically connected with hype and broken promises.
A stringent licensing policy should not be considered a detriment to the bitcoin industry. Rather, it's a move toward simply providing high-quality services, which instills faith in the technology.
"Selectivity in the licensing process is critical for achieving that aim, and the fact that authorities are so meticulous demonstrates their dedication to innovation."
Ravi Menon, MAS Managing Director, stated last month that he is committed to making Singapore a global crypto-center. However, in terms of greenlighting service providers, this necessitates a quality-over-quantity strategy.
Binance announced last week that it was pulling out of Singapore after withdrawing its DPT licensing request. Binance CEO Changpeng Zhao said that a significant investment in the HGX exchange rendered the company's application obsolete.
HGX has been granted a Recognised Market Operator License (RMO), allowing it trade both digital and non-digital products.
Newsletter
This summary contains the most current daily news from the crypto, DeFi, NFTs and other worlds.
You can gain a competitive edge in the cryptoasset marketplace.
As a premium Edge member, you'll get additional crypto insights and context in every story.
Analyses of all the chains
Snapshots of the prices
a little more context
You can join the club for just $19 per month. Check out all the benefits.
Check out this Video
The "is gemini regulated by mas" is a question that has been asked many times. There are many reasons Singapore rejected the majority of crypto licensing requests. First, they want to regulate cryptos and ensure that they are safe. They also want money laundering to be prevented and other illegal activities.
Similar Tags
Application for a Singapore Crypto License in the Final Stages of Review
Is crypto.com under the control of mas
mas payment services act license
Binance singapore is it regulated?
mas digital payment token