GRT is one altcoin that has rallied harder since BTC rebounded to above $46,000
The Graph price (GRT) has hit a new weekly high at $0.95. Bulls are currently trying to break higher, as Bitcoin's and Ethereum's surges have a favorable effect on the altcoin markets.
The indexing protocol token's price has risen by over 36% in the last week, and more than 57% in two weeks. GRT currently trades at $0.93
Is it possible for The Graph to go up and exceed $1.00 within the next two trading days? Let's take a look at the GRT prices from a technical standpoint.
The Graph price outlook
GRT/USD lost some of its early morning gains due to profit-taking limits upside moves. However, buyers seem to have the upper hand.
The 4-hour chart shows that the moving average curves are upwardly sloping, which suggests further strength for a bullish continuation.
The Awesome Oscillator confirms bulls have momentum as the bullish histogram keeps increasing within the bullish area.  If the price is above the $0.95 threshold, it could reach $1.00 where bulls will be at the May level. 
Chart for GRT/USD 4 hours Source: TradingView
GRT/USD's technical picture suggests that a breakout could lead to the token's price rising 33% to 1.618 Fibonacci levels of the swing from $0.97 – $0.44. The $1.31 target level is the most likely, but there are also possible gains at $1.40 and 1.50.
If the price cannot break the resistance of $0.95, immediate support is located around the $0.89 support zone. Below this anchor, the 20 SMA ($0.82) is visible and the 50 SMA ($0.75) is visible.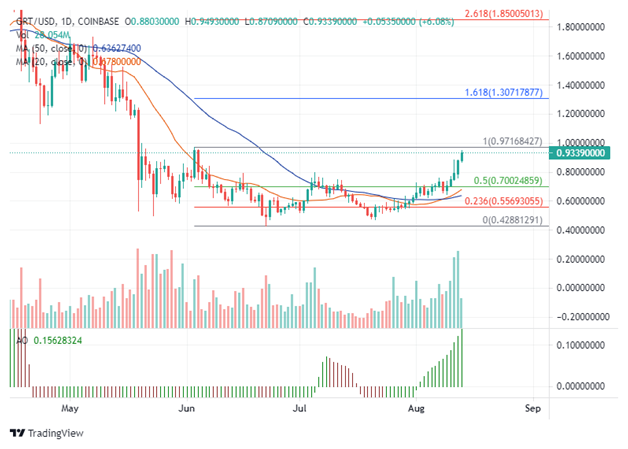 Chart of the GRT/USD daily. Source: TradingView
Daily charts also show four consecutive higher closes with the formation a three-outside up candle formation. The market was somewhat indecisive this week but has since turned around with positive moves and a golden crossing formation.
According to the Awesome Oscillator, the bulls are clearly in the ascendency. Bulls could target the $1.85 2.618 Fib Retracement Level ($1.85) if the bulls break above the $1.31 level, and maintain upside momentum for the next few days. 
Bears will seek to break down at current price levels if possible. Their initial targets are the 0.5 Fib ($0.70) or the 0.236 Fib ($0.57).