The price of Tezos is between $1.28 and $0.97, which is key support.
If the price falls higher, XTZ bulls might target $2 in April. Or they could seek support at $0.70.
Tezos' 13th network upgrade, called Mumbai, was welcomed by the blockchain.
Tezos' (XTZ) price has dropped 6.2% in the last 30 days. In the 24 hours since, it fell 1.2%. The market has been relatively stable in terms of XTZ prices, with XTZ/USD hovering just over $1.10 since February's decline from $1.50.
The Tezos market price has fallen 70% in the past year and is more than 87% below its highs of $9.12, which was reached in October 2021.
Tezos' Smart Rollups go live via 13th protocol upgrade
Tezos, a proof of stake (PoS), blockchain is designed to self-evolve or self-amending with adoption. 
Tezos' liquid proof-of-stake consensus mechanism allows for the staking of XTZ, which is called baking. Holders of XTZ can earn rewards when they "bake" to help keep the network secure.
After introducing updates to optimistic rollups and consensus keys via its 12th upgrade dubbed Lima in December 2022, Tezos announced on Wednesday the next upgrade – Mumbai – was live. Smart Rollups were the most significant update since the 13th upgrade of the blockchain.
We are glad you came to #Mumbai – @Tezos Upgrade to the '13th protocol
Designed to evolve. Built to Empower.#Tezos #BlockchainEvolved pic.twitter.com/gAPQqPYfKq
— Tezos (@tezos) March 29, 2023
The upgrade introduces a layer-2 scaling solution that will bump the network's transaction throughput, with block time reduced from 30 seconds to 15. Mumbai allows faster transaction processing and improves security and integrity for decentralised applications (dApps), which are built on Tezos.
XTZ Price Outlook
The price of XTZ is retesting the support of a downtrending trend line on the 4-hour charts. The 4-hour RSI has fallen below 50, despite the fact that there is a decent demand at $1.06.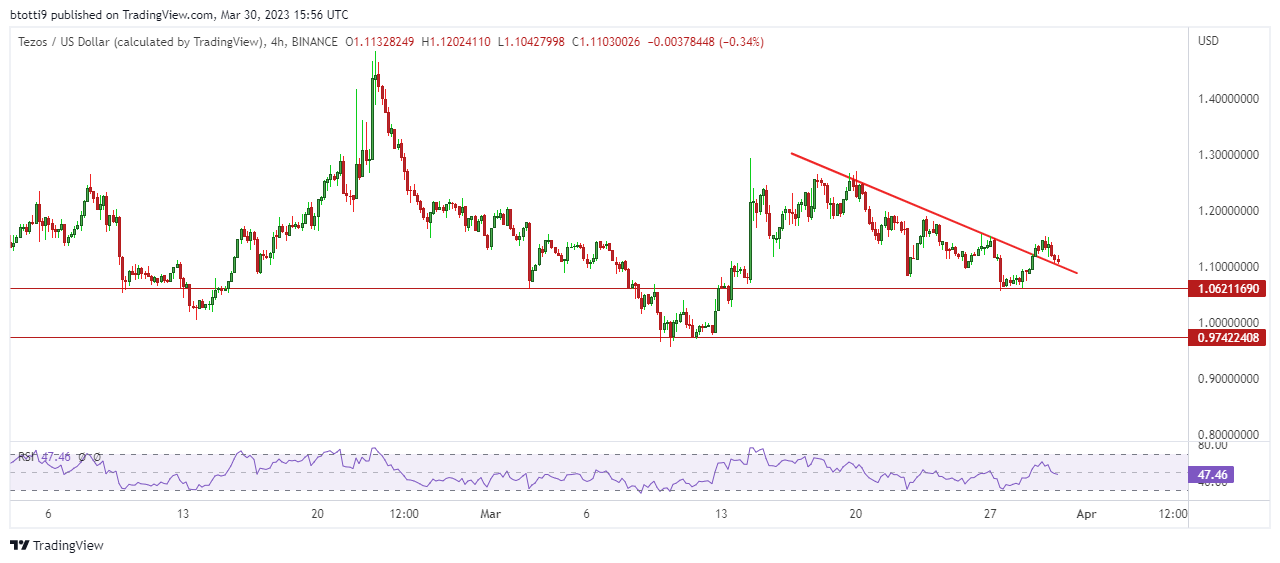 Tezos price at the 4-hour chart Source: TradingView
A break of the downtrend line could lead to increased selling pressure, and XTZ/USD could seek new impetus starting at $0.97. Tezos could also rely on the strong support expected to be near $0.70.
The key resistance zone that can be turned into support is $1.28. Bulls could target $1.50 in April, and then $2.00 in April if there is increasing buy pressure.
This article can be shared
Categories
Tags