Bitcoin's dip below $30,000 and subsequent retest of resistance above$29k highlights the past week's top coins outlook.
Shiba Inu price (SHIB), despite being below its 50 MA and 200 MA, analysts remain bullish about SHIB due to the overall sentiment and growth of network.
The price of Aptos (APT), has formed an enormous bull flag pattern, which could lead to APT reaching new highs by 2023.
Prices of tokens continue to fluctuate around key levels, indicating that the cryptocurrency market is volatile. The Bitcoin (BTC), price dropped to $27,200 in the past week. This was accompanied by a drop in global cryptocurrency market capital from $1.34 trillion down to $1.25 billion.
BTC is back above $29,000, and it has tested resistance this weekend near the psychological level of $30k.
The recent turmoil in the US banking sector, including the troubles of First Republic, has boosted cryptocurrency bulls.
Here's the price prediction for Shiba Inu (SHIB) and Aptos (APT).
Shiba Inu (SHIB) price prediction
Shiba Inu has dropped nearly 10% since the beginning of this month, after trading at a high above $0.000011.
SHIB trades currently below its 200 MA and 50 MA. RSI daily is also below 40. This suggests that the bears could have a slight lead.  

Shiba Inu price chart. Source: TradingView
A growing community is bolstered by Shibarium's success on the layer 2 testnet. 
The data on the chain shows that over 194,000 transactions have been made and more than 100,000 wallet interactions.
The $0.000035 mark will be the primary short-term target if the price flips upward amid renewed Shiba Inu buying pressure. The 2021 record high is also a key level, and a move towards $0.01 could be a Holy Grail in the upcoming bull-cycle.
Aptos (APT) price prediction
Aptos (APT) is a new layer 1 blockchain network that's benefitted from massive investment by venture capitals. Aptos (APT) mainnet launched recently. The native APT token price soared up to $19.92 YTD in January due to demand.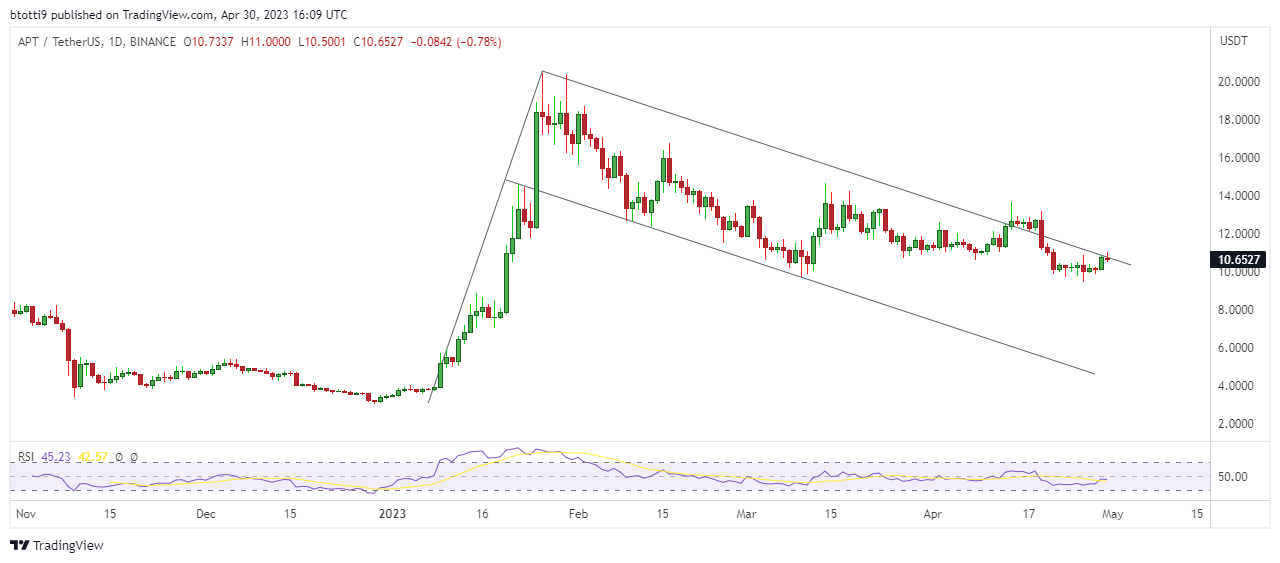 Aptos (APT) price daily chart. Source: TradingView
APT/USD, currently trading around $10 is approximately 46% away from its January highs. Analysts remain optimistic about the Aptos Price.
Crypto analyst Captain Faibik was recently featured in the media highlighted Aptos bullish flag pattern. If there is a breakout, the move to $20 could be the primary target in the short-term. 
This Aptos medium-term price prediction sees the potential for a burst of a new record high.
Share this Article
The following categories are available:
Tags