PEPE traded for $0.000002328 at the time of this publication.
The token price has dropped by 10.93% over the past 24 hours.
PEPE reached its all-time highest of $0.000004354 in May 2023.
After reaching its highest point in popularity, PEPE is on the decline.  
The price of PEPE has dropped by 46.53% in just three from its all-time high of $0.000004354, which it hit after the meme token got listed on several major exchanges including OKX and Binance.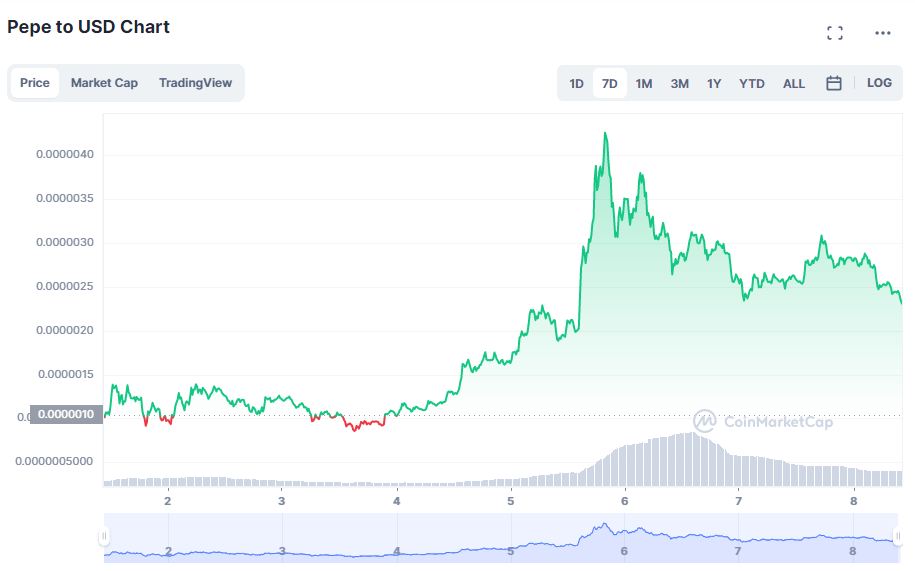 PPE Price
Binance received 4.23 trillion PEPE tokens
A tweet According to blockchain data provider Lookonchian a giant Whale bought 4,23 trillion tokens of PEPE with 422 $ETH. 200K $USDC. The whale then deposited every PEPE purchased on Binance.
Above transactions were done on the same day, May 5. Binance announced PEPE's listing. The whale made a profit of $14.5 million when he deposited the PEPE token in Binance, immediately after buying the trillion tokens.
Market participants fear that the whale's move to send meme coins to Binance is a preparation for selling tokens to recover profits prior to the token dumps. These fears have put pressure on the market, resulting in a current price decline.
Share this article
The following categories are available: