Elon Musk has sent several tweets showing a dog sitting on the CEO seat.
There is concern in the wider crypto community about Twitter adding crypto.
The trend in dog-themed tokens is evident from the following tweets
The majority of meme coins have soared after Elon Musk, Twitter CEO, tweeted a photo showing his dog pretending to be the CEO.
Twitter's new CEO is incredible pic.twitter.com/yBqWFUDIQH
— Elon Musk (@elonmusk) February 15, 2023
Musk didn't mention cryptocurrency, but crypto community saw the tweet as a possibility of crypto payments being added to Twitter. The most likely one was Dogecoin (DOGE).
Today meme coins' price surge comes against the backdrop of a sharp drop in the past few days.
FLOKI at 40%
FLOKI traded at $0.00003107 as of press time. The price of FLOKI had risen 40.32%. The meme coin is second in the list of top meme coins gainers, behind Dogcoin token (DOGS), who had gained 40.67%.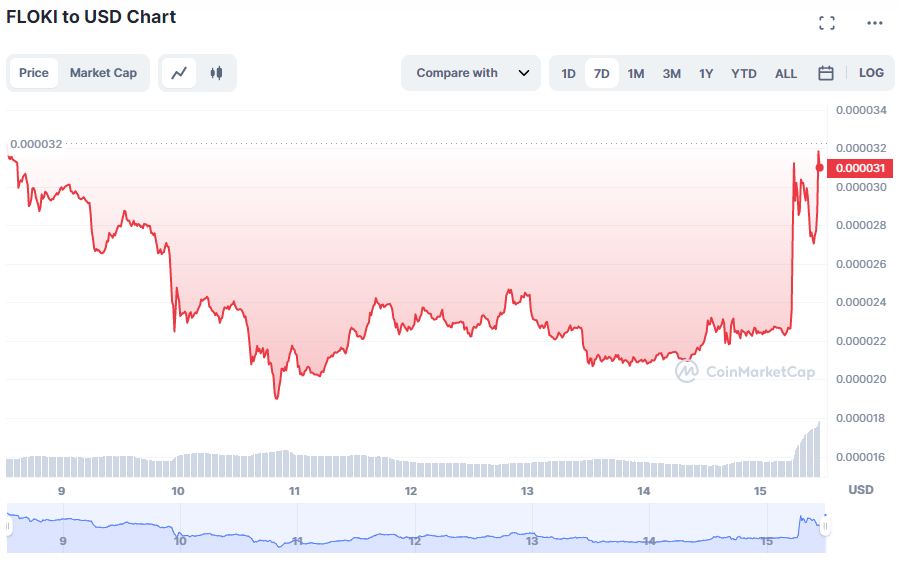 FLOKI price graph. Source: Coinmarketcap
Floki Is probably the highest meme coin gainer since Elon Musk's shiba inu dog is called "FLOKI."
Dogecoin increases 6%
Dogecoin and Shiba Inu are probably the biggest beneficiaries of Musk's tweets owing to the fact that they were in a free fall in the past few days.
Although DOGE's price was up by 6.03% over the last 24 hours, it was still 5.8% lower than the previous seven days. The price of Shiba Inu, (INU), has fallen by 8.81% over the past seven days, but is now up 4.41%.
Most canine meme tokens today are increasing in popularity. However, it is not clear how long Elon's tweet excitement will last.
This article can be shared
Categories
Tags