To the moon!
Rocket ICO is a platform built on decentralized autonomous organization (DAO) principles, which unites investors, experts and start-up teams.
About Platform
Rocket ICO is self-regulating start-up accelerator platform, which connects investors, start-up teams and independent experts. Ethereum smart contracts are used to allow investors to use professional expert evaluation for investments, and start-ups to successfully launch ICOs. Rocket ICO's platform is a decentralised web application (dApp).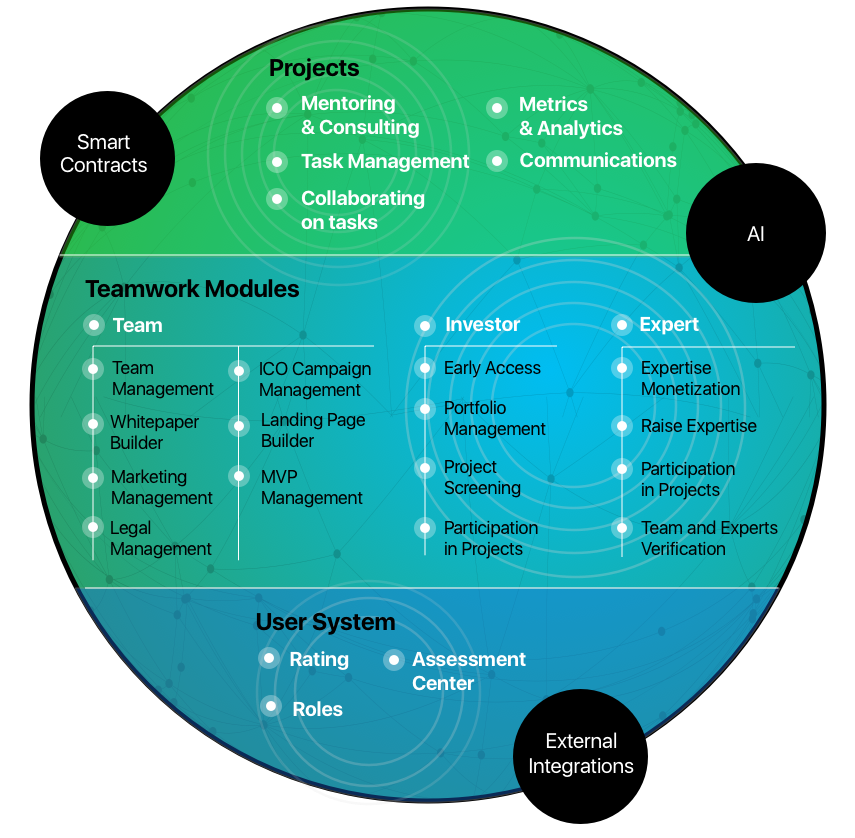 Our Team About Rocket ICO:
Platform interface
Registration on the Platform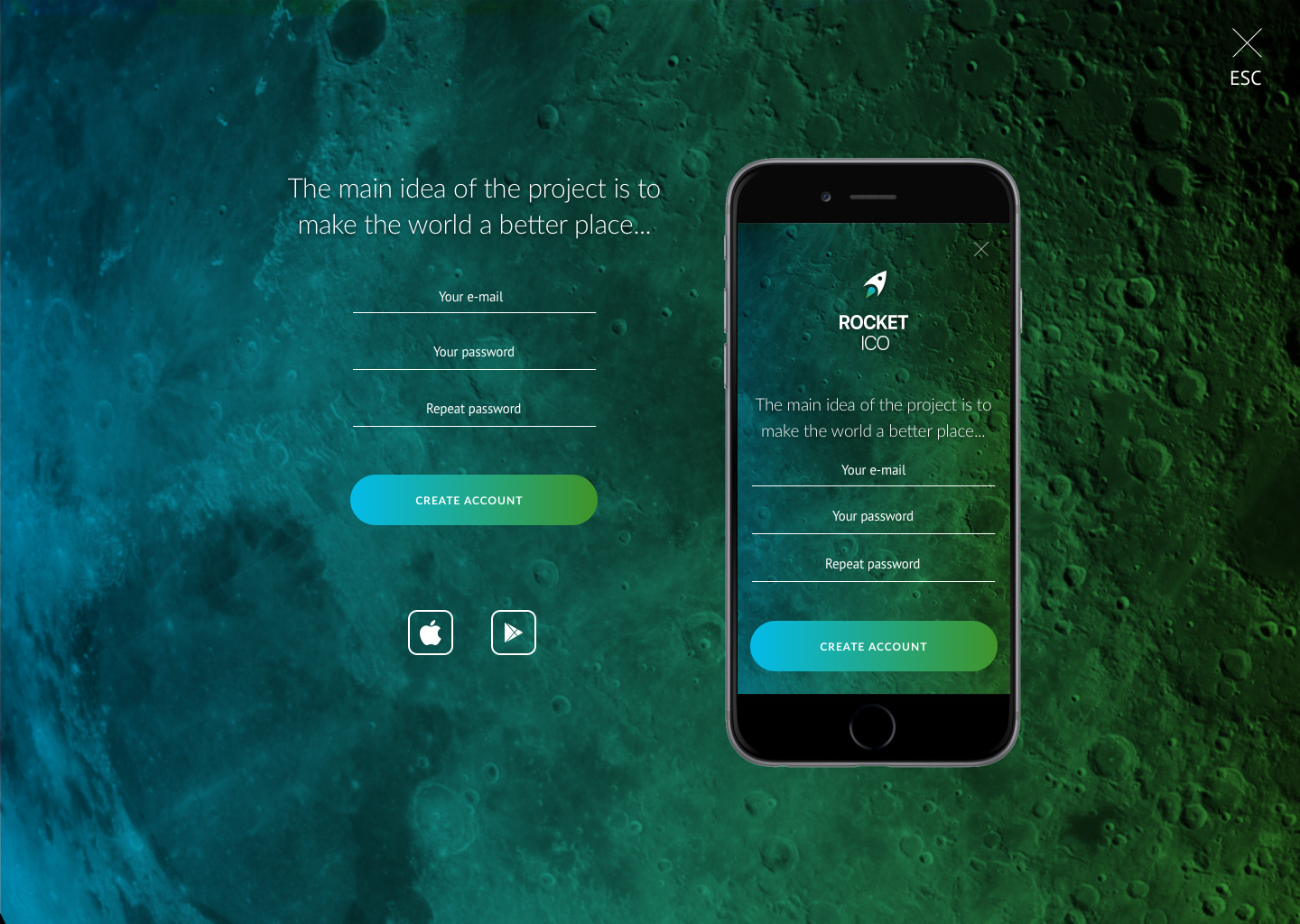 Send request to add your project on the platform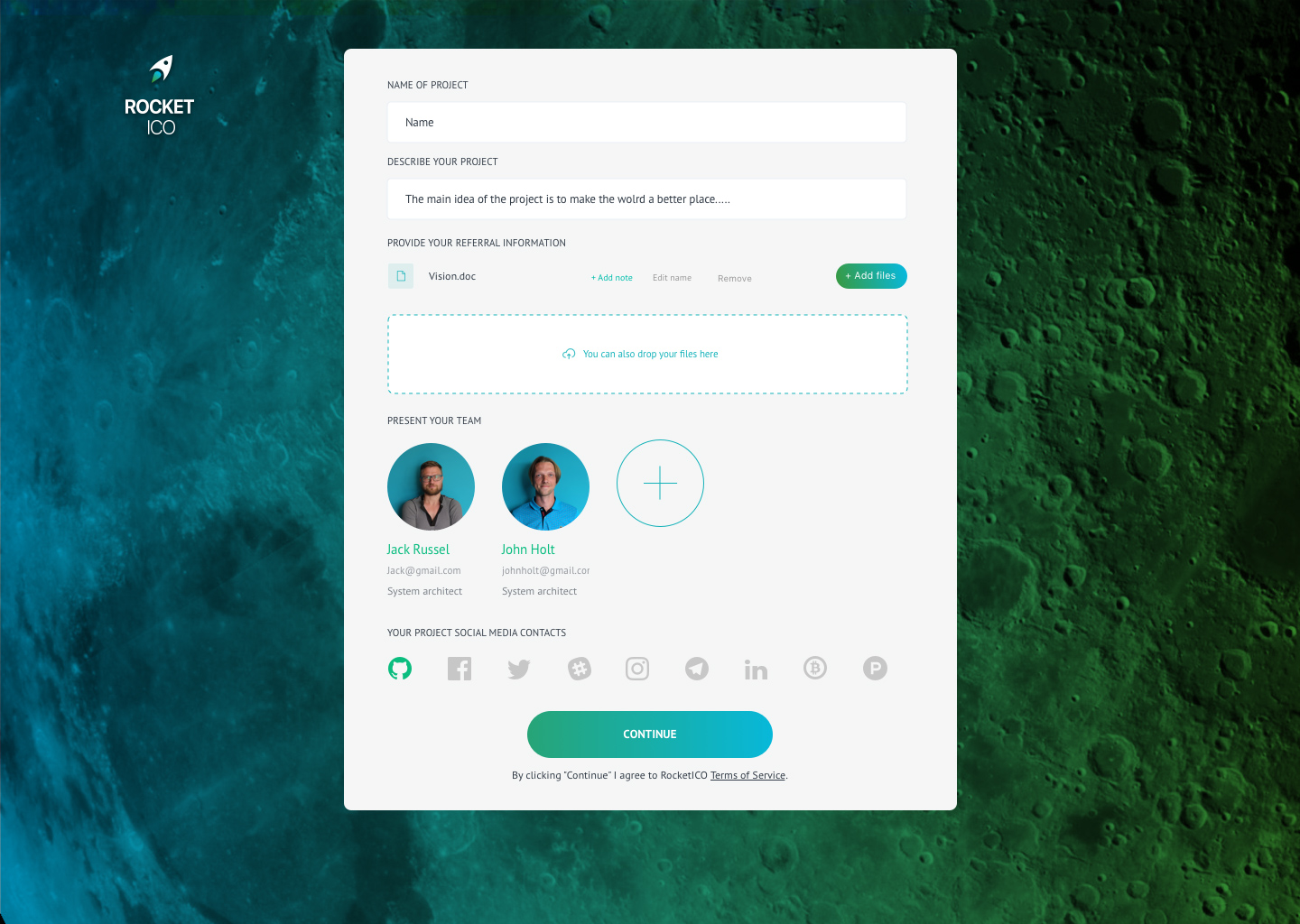 Prepare your project to ICO using platform tools (whitepaper, MVP, marketing, Legal) where you can work together with team and experts receiving immediately feedback from investors and expert community.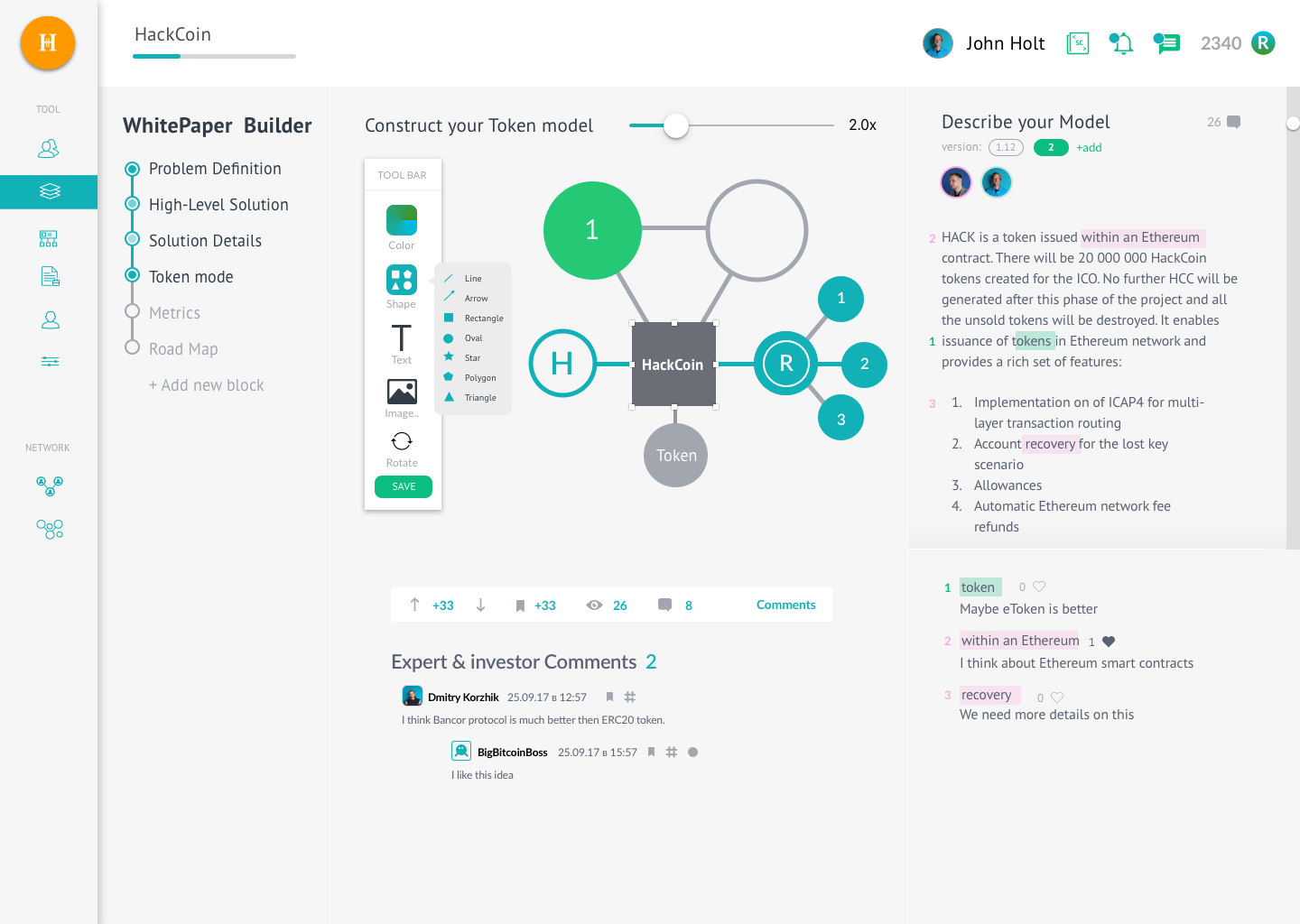 Manage and plan you marketing activities with platform tools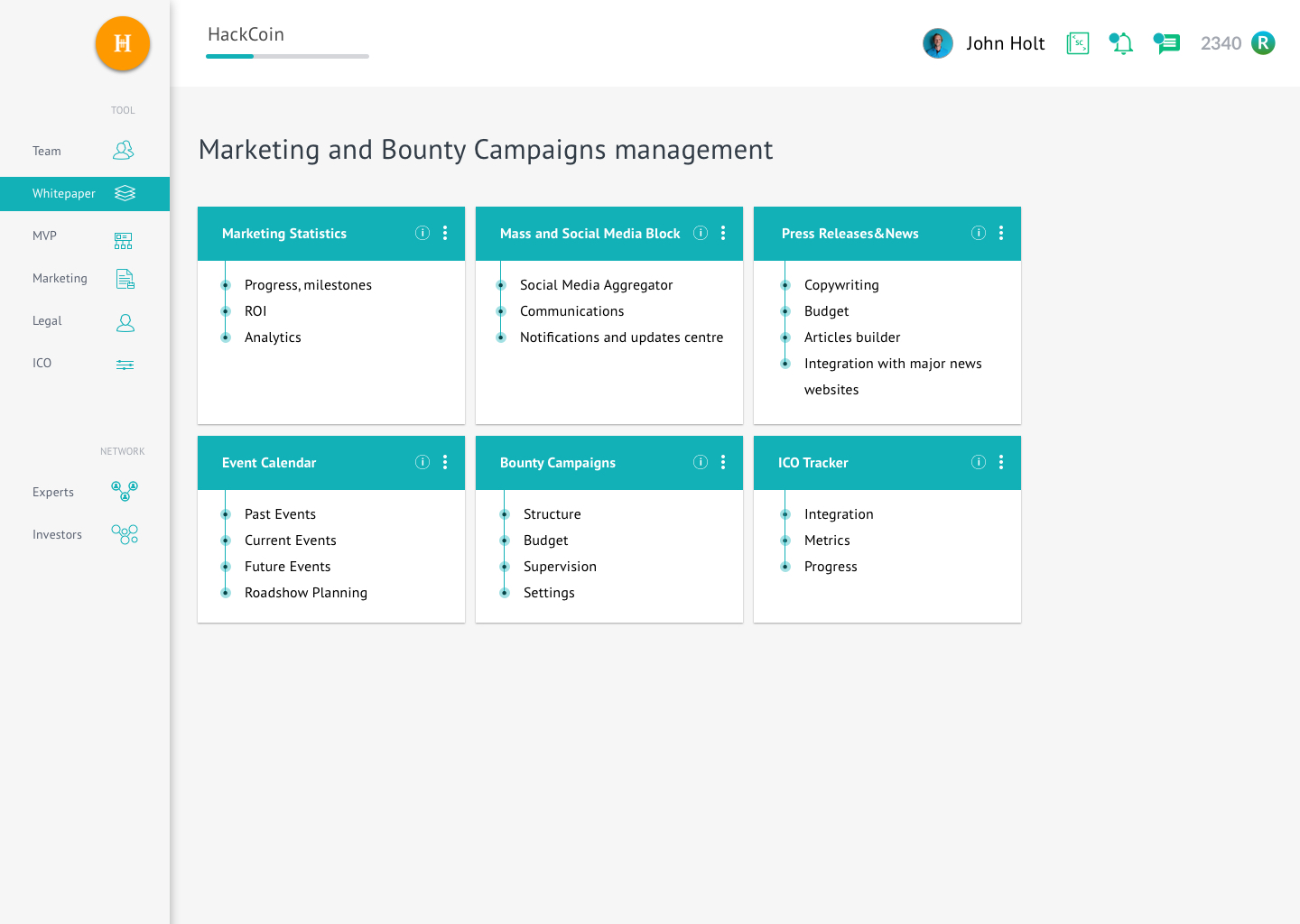 Be a part of experts and investors network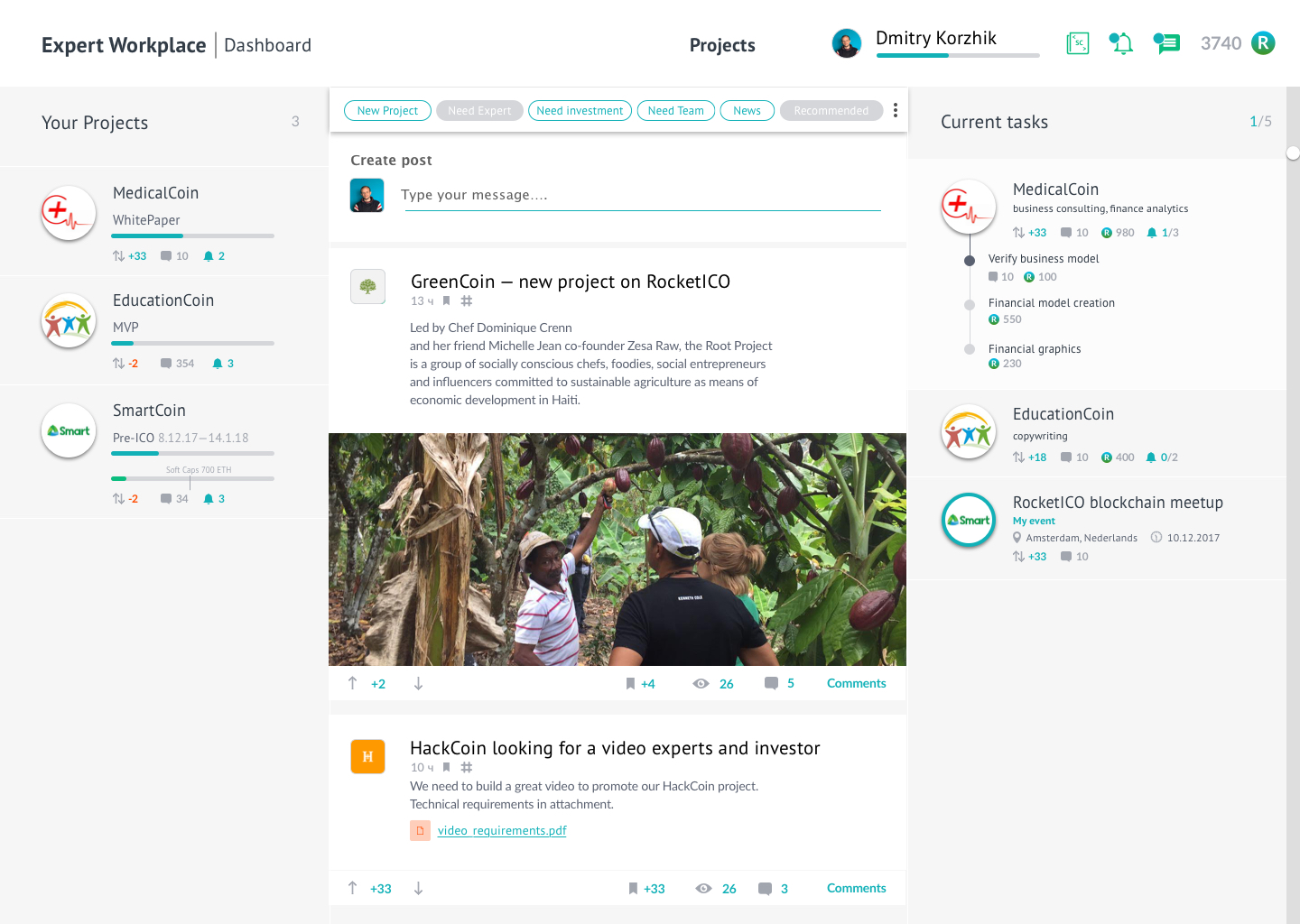 Create agreements between investors, experts and teams using smart contracts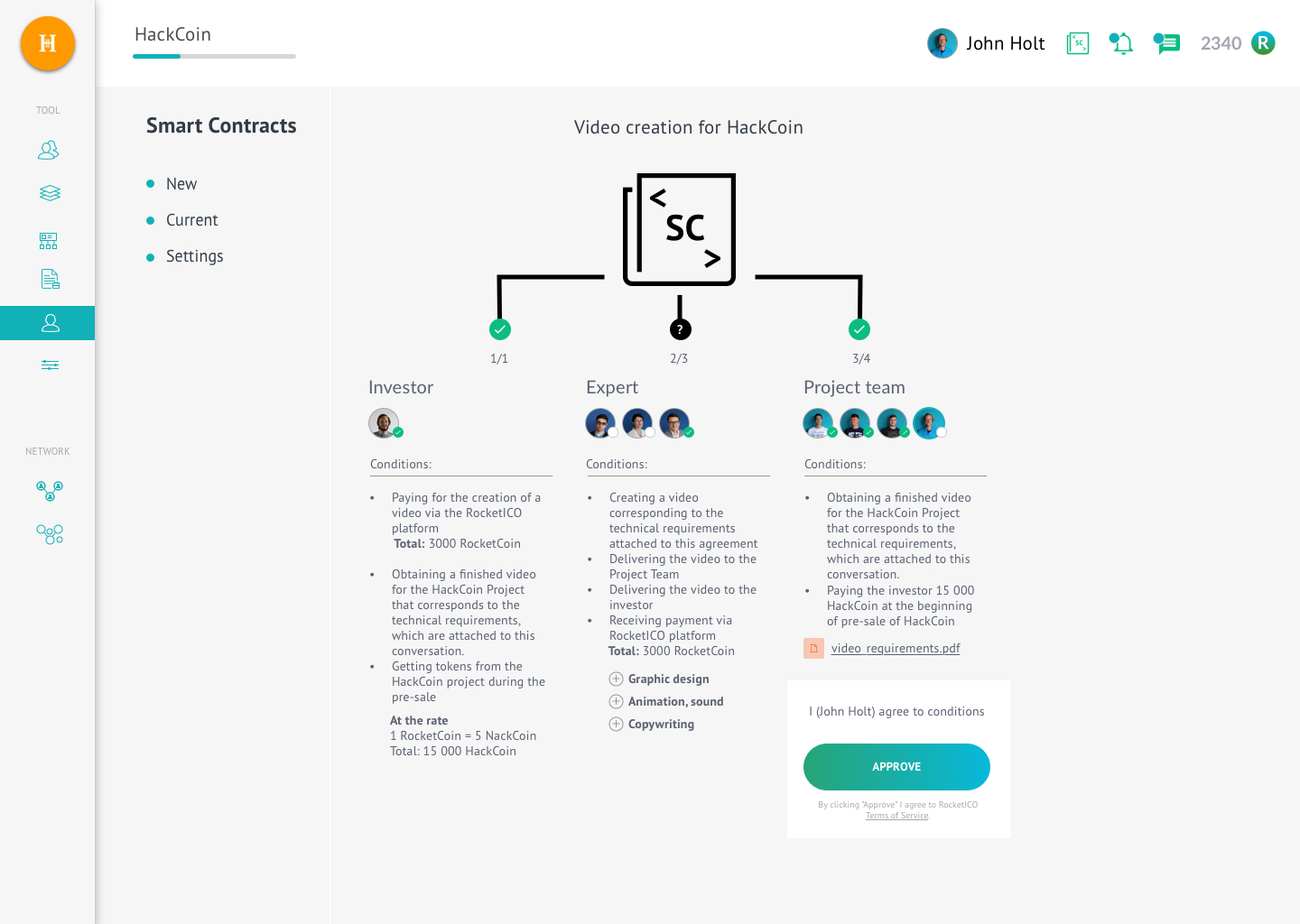 Manage your ICO process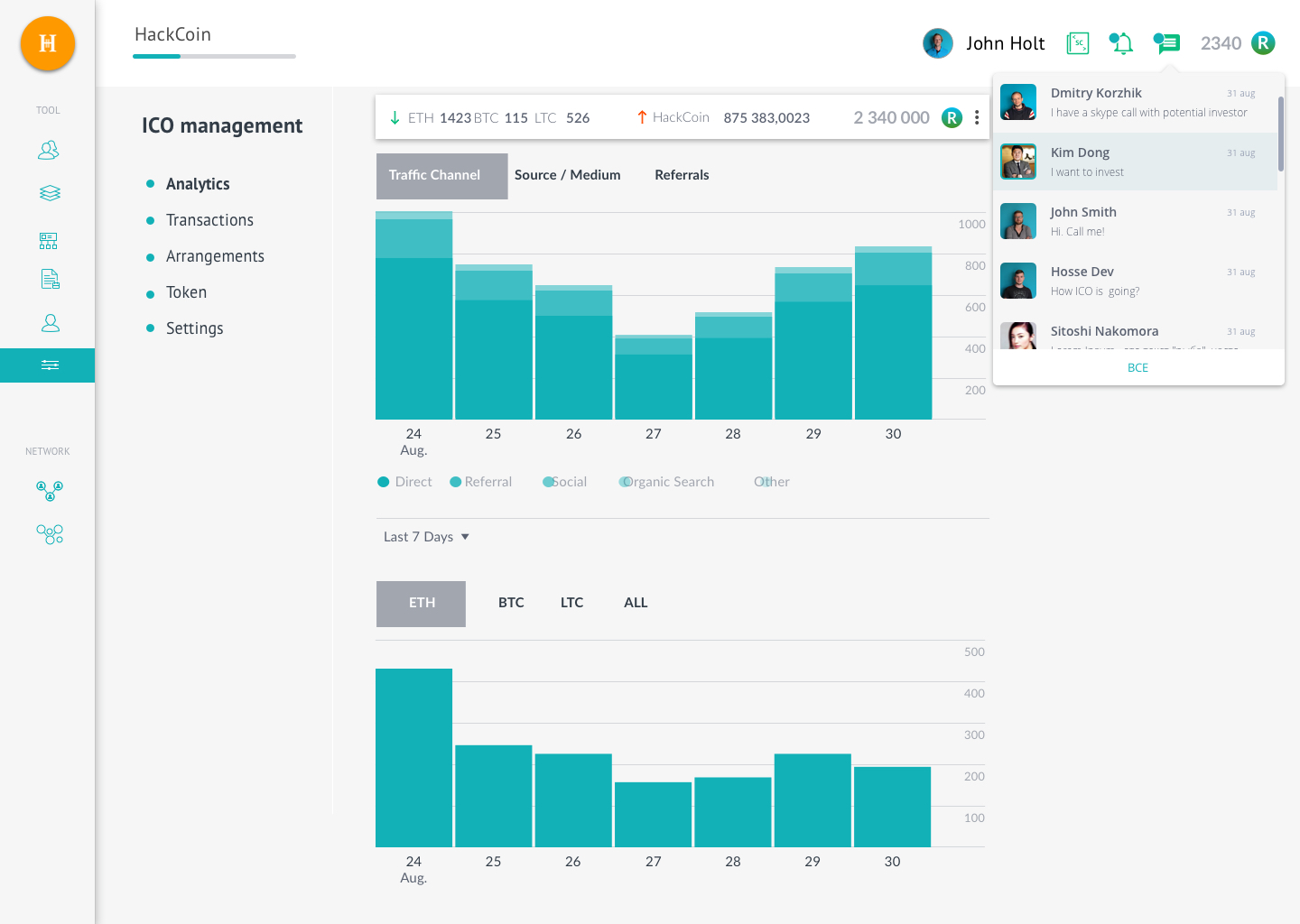 Pre-ICO
During pre-ICO 1 million preROCK tokens with fixed price will be distributed.
1 ETH = 300 preROCK = 300 RocketCoin
Want to invest 20 ETH or more? Get special offer:
End of pre-ICO - 25 September (UTC 12:00)
Funds raised during pre-ICO will be spent on: Legal issues, MVP development, Marketing campaign.
RocketCoin
RocketCoin (ROCK) is a utility token that is widely used by investors, experts and teams to interact within the Rocket ICO platform. A total of 25m RocketCoins will be emitted. The development of the platform, which is linked to the growth of the expert and investor network as well as to the number of successful projects that completed the acceleration program, will ensure general satisfaction of the token holders, motivate them to work and make profit on the platform.
Total emission of RocketCoin tokens - 25 millions
5
m.
— Foundation of Rocket ICO
2
m.
— Bounty-program, pre-seed investors, PR
RocketCoin based
on Ethereum Network
RoadMap


ICO
15 Aug
2017
Pre-ICO start
25 Sep
2017
Pre-ICO finish
Development
Oct 2017
• Legal issues
• Marketing
MVP:
• ICO management
v 0.2
• investor management
v 0.2
Dec 2017
• WhitePaper builder
• expert v 0.4
• investor v 0.4
• entrepreneur
v 0.4
• ICO management v 0.4
Feb 2018
• marketing v 0.4
• expert v 0.6
• ICO management v 0.6
May 2018
• landing page builder
• investor v 0.6
• marketing v 0.6
• entrepreneur
v 0.6
• expert v 0.8

Jul 2018
• entrepreneur module v 0.8
• marketing module v 0.8
• investor module
v 0.8
• ICO management module v 0.8
• Chat bots
Sep 2018
• AI-based analytics
• mobile applications
• entrepreneur
v 1.0
• investor v 1.0
• marketing v 1.0
• expert v 1.0
• ICO management v 1.0
• Organization of RocketICO communities around the world
The idea to create this platform came as a result of the experience gained by our team members and experts after taking part in the following projects: