After the largest Bitcoin dump since November 2022 its price was below $20,000
The market capitalization of the top crypto asset was depleted amid a wider selloff in cryptocurrencies. This was largely due to negative news.
KuCoin has been sued by New York Attorney-General for offering unregistered securities. Ethereum is one of these securities.
In the wake of negative cryptocurrency news, Bitcoin prices have dropped almost 10% over the past 24 hours. This could lead to further losses.
Below is the Bitcoin price chart. The Bitcoin market's leading cryptocurrency, Bitcoin, fell to $19 569 on Bitstamp.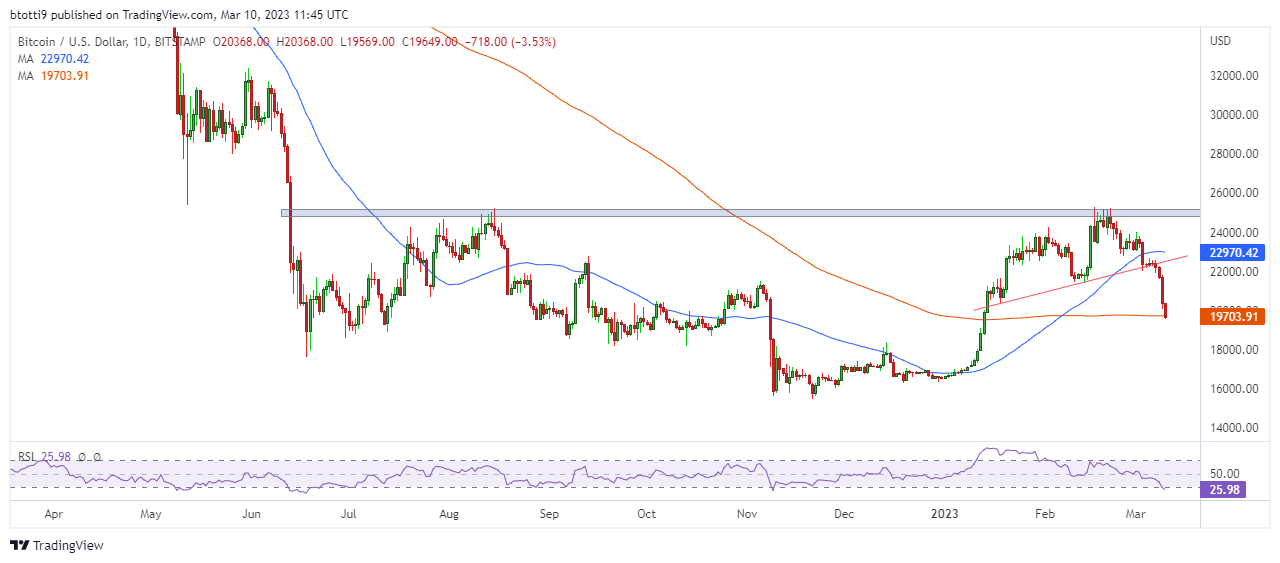 Bitcoin price dropped below $20,000 to $19,569 at Bitstamp Source: TradingView
This happened after a selloff which began on Thursday and continued into Friday morning. The dump drove Bitcoin below the psychological support level of $20,000 for only the second time since January. During the FTX dump, Bitcoin also saw its largest price drop since November 2022.
Bitcoin and crypto crashes today
As CoinJournal reported early Friday, today's selling pressure for cryptocurrencies comes after the New York Attorney General sued the crypto exchange Kucoin alleging it sold unregistered securities. The lawsuit named Ethereum as one of those securities, adding to the negative outlook.
The market's reaction saw Ethereum price plunge to lows of $1,375 and was down 9.8% at the time of writing.
The news that Silvergate, a crypto bank, was closing down also triggered selloff pressure. The company's shares plummeted nearly 50% in the aftermath, with fears of even more damage amid a Silicon Valley "bank run."
A report that the US wanted to tax Bitcoin mining was another headline that could have caused new downside for crypto. Huobi Token's flash crash and a security breach on Hedera also added to the broader market bloodbath.
Miles Deutscher, crypto analyst, pointed out this confluence. He noted that stocks and cryptocurrency have lost over $2 trillion in market value over the last 24 hours. 
The last 24 hours:
• Stocks + crypto shed $2T in value
• New York Attorney labels $ETH Security
• KuCoin hit with lawsuit
• Silicon Valley bank crash
• Huobi flash crash
• Biden proposes tax on $BTC Mining
• Voyager liquidating assets
Crypto is just another day.
— Miles Deutscher (@milesdeutscher) March 10, 2023
Share this article
Categories
Tags